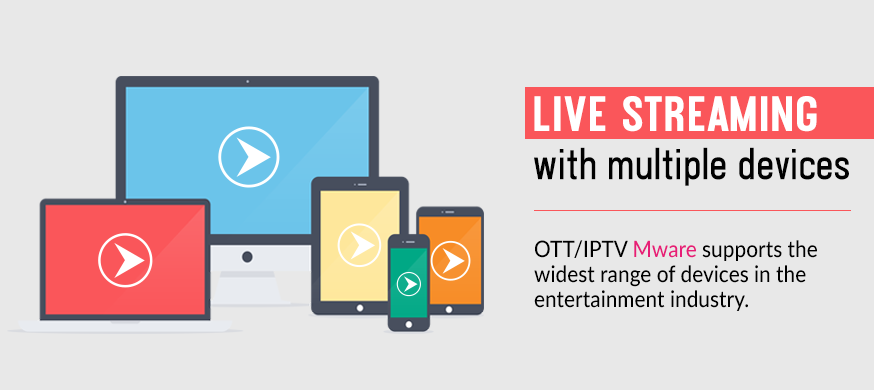 Multiple devices bring new opportunity to live streaming. In today's fast streaming world, it is important to stream video to consumers on demand at home. The increased speed has enabled new online live streaming services to multiple devices to capture the entertainment.
OTT/IPTV Mware supports the widest range of devices in the entertainment industry. It enables pay TV operators to quickly bring video streaming services to IP devices by combining technologies. Also it enables pay TV operators to securely stream live premium content to multiple devices.
There are Consumers who want to watch premium content on every connected device in the home and to provide such supremacy in the home, pay TV operators quickly make their video services available on every new device and it is possible because of premium content from the cloud & with the help of Digital Living Network Alliance(DLNA) standards with New Commercial Video Profile 2 (CVP2) specification, operators can seek a super fast and cost-effective modes to reach more devices at same time.
What are the responsible elements for streaming many devices?
OTT/IPTV Mware supports the IP video,

operators

can now use the network to deliver premium content directly to a broad array of consumer-purchased devices.
With Mware IPTV,

operators

can gain extremely fast and cost-effective modes to reach more devices at same time.
With the OTT/IPTV Mware solutions, the

operators

can bring video

streaming

services to IP devices by combining HTML5 remote user interfaces and MPEG-DASH.
With OTT/IPYTV Mware solutions, the DLNA CVP2 enables

operators

to provide premium content to multiple devices.
4 things that operators should keep in mind while providing services:
Device Fragmentation:
These operators need to take care that whether the demand for premium content across a quick, fast-growing and increasingly diverse collection of devices, including smart TVs, tablets, smart phones, PCs and game consoles.
Content discovery and control:
It enables users to find, select, record and consume content across a array of screens. Smartphone and tablet applications can provide these functions.
Content

streaming

:It must have unicast IP traffic that all in-home devices can support content Moreover the Adapt formats and bit rates are considered vividly to different devices and available bandwidth.
Content protection:The Authenticity should be present that subscribers use the IP addresses, username/password credentials or device information. There is a restrict sharing to the home network.
Consumers can easily stream their favorite channels on multiple devices!
For instance, they can use their m3u subscription on, Smart Phones, TV's, Tablets, Android Boxes, Laptops and so on.
What are the instances for Live streaming VOD?
Streaming your live and video-on demand content to mobile smart phones, desktop video players, set-top boxes, gaming consoles ,HTML5 and flash players, and OTT devices.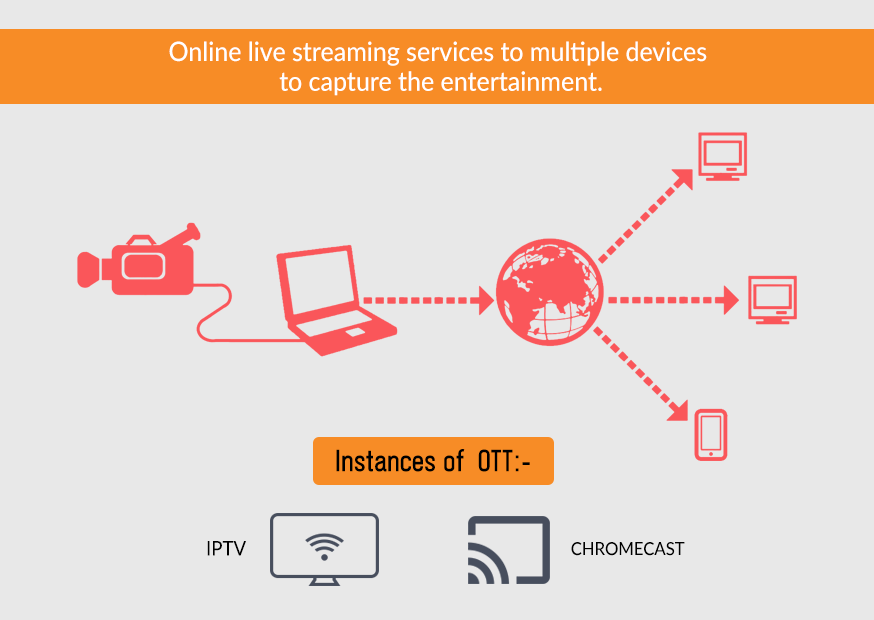 Instances of Mobile devices and Smart phones:
Apple iOS
Android
And many more.
Instances of  OTT(Over-the-top) Devices:
Chromecast
And many more.
Instances of protocols in Set-Top Boxes that supports delivery over unicast and multicast
MPEF-TS
RTSP/RTP
RTMP
APPLE HLS
Instances for HTML5 and Flash Players:
Live streaming is easy or VOD content from Middleware to JW Player is directly or via a CDN
Examples of the players are:
Bitdash
Plowplayer
PenTelly THEOplayer
There must be a Multiroom setup possibility that includes the two subscriptions that are required to watch streams on multiple devices. If you need any help then contact the Mware Solutions.
Get Help & Support from Mware Solutions:
Take an expert help for setting up the whole things, and for other related things. Operators can directly contact with the sales team. Get the most authentic and genuine solutions for the multi device connectivity for live streaming.