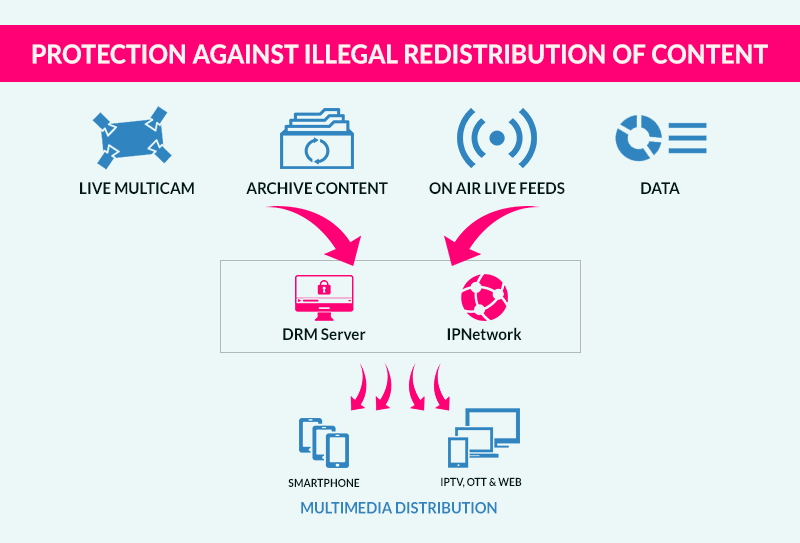 We​ ​live​ ​in​ ​a​ ​world​ ​which​ ​has​ ​come​ ​a​ ​long​ ​way​ ​from​ ​linear​ ​TV.​ ​The​ ​ways​ ​of​ ​distributing content​ ​have​ ​changed.​ ​With​ ​broadband​ ​availability,​ ​the​ ​way​ ​audiences​ ​view​ ​entertainment programs,​ ​sports​ ​and​ ​news​ ​has​ ​been​ ​revolutionized.
  Audiences​ ​are​ ​watching​ ​content​ ​on​ ​any​ ​IP​ ​connected​ ​device,​ ​over​ ​any​ ​network,​ ​anywhere. This​ ​has​ ​exposed​ ​content​ ​owners​ ​and​ ​service​ ​providers​ ​at​ ​the​ ​risk​ ​of​ ​video​ ​piracy​ ​-​ ​a​ ​risk which​ ​has​ ​been​ ​on​ ​the​ ​rise​ ​since​ ​the​ ​past​ ​decade​ ​and​ ​shows​ ​no​ ​sign​ ​of​ ​diminishing.​ ​Content owners​ ​and​ ​distributors​ ​(service​ ​providers)​ ​are​ ​presented​ ​with​ ​the​ ​challenge​ ​of​ ​delivering their​ ​content​ ​securely.
  According​ ​to​ ​an​ ​online​ ​threat​ ​analysis​ ​done​ ​by​ ​piracy​ ​monitoring​ ​specialist​ ​Friend​ ​MTS,​ ​in September​ ​2016,​ ​there​ ​were​ ​12,000​ ​unique​ ​instances​ ​of​ ​HD​ ​channels​ ​being​ ​distributed​ ​on piracy​ ​platforms.​ ​These​ ​were​ ​sourced​ ​from​ ​Pay​ ​TV​ ​service​ ​providers​ ​across​ ​the​ ​globe. When​ ​it​ ​comes​ ​to​ ​mobile​ ​devices that number increases to a whopping 22,000​channels.
 This​ ​is​ ​a​ ​scenario​ ​where​ ​almost​ ​no​ ​operator​ ​is​ ​exempt.​ ​Modern​ ​media​ ​consumers​ ​are​ ​used to​ ​"anytime,​ ​anywhere,​ ​any​ ​device"​ ​content​ ​and​ ​the​ ​growing​ ​demand​ ​for​ ​consuming​ ​content in​ ​that​ ​manner​ ​is​ ​driving​ ​rapid​ ​changes​ ​in​ ​the​ ​way​ ​digital​ ​content​ ​is​ ​distributed.​ ​Content​ ​is being​ ​sourced​ ​from​ ​the​ ​smallest​ ​to​ ​the​ ​largest​ ​Pay​ ​TV​ ​providers​ ​in​ ​the​ ​world.
The​ ​video​ ​quality​ ​available​ ​in​ ​piracy​ ​platforms​ ​is​ ​unprecedented​ ​to​ ​say​ ​the​ ​least.​ ​With bitrates​ ​of​ ​4-6​ ​Mbps​ ​for​ ​HD​ ​channels​ ​and​ ​1​ ​Mbps​ ​H.264/AVC​ ​for​ ​SD​ ​channels​ ​being commonplace,​ ​it​ ​is​ ​well​ ​capable​ ​of​ ​rivalling​ ​that​ ​of​ ​Pay​ ​TV​ ​platforms.
A​ ​study​ ​conducted​ ​by​ ​Arthur​ ​De​ ​Vany,​ ​Professor​ ​of​ ​economics​ ​at​ ​University​ ​of​ ​California, Irvine,​ ​and​ ​David​ ​Walls,​ ​Professor​ ​of​ ​economics​ ​at​ ​the​ ​University​ ​of​ ​Calgary​ ​has​ ​found​ ​that​ ​it is​ ​possible​ ​that​ ​40%​ ​of​ ​a​ ​typical​ ​film's​ ​box​ ​office​ ​revenue​ ​is​ ​being​ ​lost​ ​to​ ​piracy.​ ​The fundamental​ ​question​ ​posed​ ​by​ ​these​ ​professors​ ​and​ ​others​ ​have​ ​made​ ​Digital​ ​Rights Management​ ​(DRM)​ ​possible.
What​ ​is​ ​DRM?   DRM​ ​is​ ​a​ ​type​ ​of​ ​video​ ​protection​ ​which​ ​comprises​ ​an​ ​encryption​ ​of​ ​symmetrical​ ​and asymmetrical​ ​characters​ ​combined.​ ​As​ ​the​ ​name​ ​Digital​ ​Rights​ ​Management​ ​suggests,​ ​it​ ​is an​ ​electronic​ ​content​ ​protection​ ​solution​ ​that​ ​protects​ ​the​ ​video​ ​content​ ​available​ ​on streaming​ ​services​ ​and​ ​devices.
DRM​ ​is​ ​used​ ​to​ ​broadcast​ ​not​ ​only​ ​video​ ​content​ ​but​ ​other​ ​types​ ​of​ ​content​ ​as​ ​well,​ ​such​ ​as audio.​ ​With​ ​DRM,​ ​OTT​ ​solution​ ​providers​ ​can​ ​take​ ​advantage​ ​of​ ​encrypting​ ​files​ ​in​ ​the​ ​native mode,​ ​so​ ​that​ ​they​ ​cannot​ ​be​ ​copied​ ​and​ ​redistributed​ ​illegally.
DRM​ ​prevents​ ​the​ ​widespread​ ​unauthorized​ ​access​ ​of​ ​copyrighted​ ​content,​ ​thereby protecting​ ​the​ ​revenues​ ​of​ ​content​ ​creators.
Advantages​ ​Of​ ​Using​ ​A​ ​DRM​ ​Solution
● Simplified​ ​architecture
● Reduced​ ​costs​ ​of​ ​operations​ ​and​ ​support
● Quicker,​ ​smoother​ ​deployment​ ​of​ ​new​ ​TV​ ​Everywhere​ ​services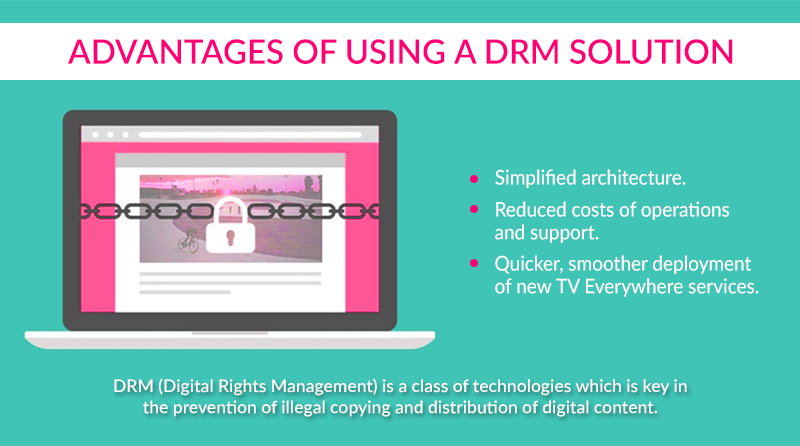 However,​ ​in​ ​the​ ​world​ ​of​ ​OTT​ ​(Over​ ​the​ ​Top),​ ​the​ ​decision​ ​of​ ​using​ ​a​ ​particular​ ​DRM​ ​is different​ ​from​ ​that​ ​of​ ​IPTV​ ​operators.​ ​This​ ​is​ ​a​ ​much​ ​more​ ​streamlined​ ​process​ ​where​ ​the costs​ ​of​ ​encoding,​ ​processing,​ ​and​ ​storing​ ​content​ ​in​ ​several​ ​different​ ​formats​ ​for​ ​different devices​ ​are​ ​reduced​ ​and​ ​workflows​ ​are​ ​simplified.​ ​Offering​ ​secure​ ​streaming​ ​video​ ​and offline​ ​playback​ ​on​ ​a​ ​variety​ ​of​ ​devices​ ​with​ ​a​ ​singular​ ​DRM​ ​platform​ ​has​ ​facilitated deployments​ ​with​ ​major​ ​IPTV​ ​and​ ​OTT​ ​operators.
An​ ​ideal​ ​DRM​ ​solution​ ​should​ ​take​ ​care​ ​of​ ​the​ ​following:
● Being​ ​platform-independent​ ​and​ ​device-independent.
● Delivering​ ​content​ ​anywhere.
● Quickly​ ​locating​ ​the​ ​source​ ​of​ ​a​ ​security​ ​breach​ ​and​ ​fix​ ​it.
● Providing​ ​users​ ​with​ ​a​ ​transparent​ ​experience​ ​over​ ​OTT​ ​as​ ​well​ ​as​ ​managed networks.
This​ ​is​ ​why​ ​it's​ ​of​ ​paramount​ ​importance​ ​to​ ​choose​ ​the​ ​right​ ​technology​ ​partner​ ​for​ ​securing content​ ​through​ ​DRM.
Multi​ ​DRM  
There​ ​is​ ​more​ ​to​ ​DRM​ ​than​ ​content​ ​protection.​ ​Digital​ ​rights​ ​management​ ​is​ ​also​ ​about adding​ ​value​ ​to​ ​your​ ​platform,​ ​enabling​ ​your​ ​subscribers​ ​to​ ​watch​ ​content​ ​on​ ​a​ ​plethora​ ​of devices​ ​while​ ​allowing​ ​you​ ​to​ ​control​ ​all​ ​the​ ​devices​ ​and​ ​services​ ​that​ ​run​ ​on​ ​your​ ​platform. When​ ​done​ ​right,​ ​multi​ ​DRM​ ​helps​ ​ensures​ ​that​ ​the​ ​services​ ​are​ ​managed​ ​flexibly​ ​and optimally​ ​(for​ ​you)​ ​for​ ​years​ ​to​ ​come.
Multi​ ​DRM​ ​is​ ​a​ ​little​ ​more​ ​complex​ ​version​ ​of​ ​Digital​ ​Rights​ ​Management,​ ​where​ ​a​ ​range​ ​of DRM​ ​technologies​ ​that​ ​are​ ​native​ ​to​ ​popular​ ​device​ ​platforms​ ​are​ ​managed​ ​and​ ​supported, while​ ​enhancing​ ​non-native​ ​devices​ ​with​ ​a​ ​proven​ ​DRM​ ​product.
This​ ​technology​ ​saves​ ​licenses​ ​to​ ​client​ ​devices,​ ​supports​ ​multiple​ ​key​ ​exchange​ ​protocols and​ ​has​ ​a​ ​sophisticated​ ​policy​ ​engine​ ​to​ ​determine​ ​the​ ​DRM​ ​and​ ​CAS​ ​rules.
Different​ ​devices​ ​and​ ​platforms​ ​use​ ​different​ ​DRM​ ​systems.​ ​In​ ​order​ ​to​ ​distribute​ ​content​ ​to the​ ​largest​ ​possible​ ​audience,​ ​content​ ​owners​ ​and​ ​distributors​ ​will​ ​have​ ​to​ ​use​ ​multiple​ ​DRM technologies.
Thankfully,​ ​there​ ​are​ ​companies​ ​that​ ​make​ ​it​ ​easy.​ ​They​ ​help​ ​you​ ​support​ ​all​ ​major​ ​DRM systems,​ ​thereby​ ​protecting​ ​your​ ​content​ ​and​ ​help​ ​it​ ​gain​ ​maximum​ ​reach.​ ​One​ ​such company​ ​is​ ​Mware Solutions,​ ​which​ ​has​ ​a​ ​turnkey​ ​end-to-end​ ​OTT​ ​IPTV​ ​Middleware​ ​solution.​ ​The solution​ ​is​ ​called​ ​CloudTV​ ​which​ ​utilises​ ​BuyDRM​ ​MultiKey​ ​Service​ ​to​ ​provide​ ​DRM​ ​as​ ​a service​ ​which​ ​is​ ​also​ ​known​ ​as​ ​DaaS.​ ​The​ ​CloudTV​ ​dramatically​ ​makes​ ​the​ ​complex​ ​tasks​ ​of deploying​ ​IPTV​ ​much​ ​easier.​ ​This​ ​provides​ ​a​ ​streamlined​ ​integration​ ​between​ ​the​ ​different components​ ​involved,​ ​which​ ​includes​ ​CDN,​ ​transcoding,​ ​middleware​ ​and​ ​UI.
Conclusion:  
Today's​ ​consumers​ ​are​ ​using​ ​an​ ​increasing​ ​number​ ​of​ ​devices​ ​and​ ​platforms​ ​to​ ​view audio-visual​ ​content.​ ​This​ ​has​ ​given​ ​a​ ​rise​ ​to​ ​content​ ​piracy.​ ​With​ ​huge​ ​sums​ ​invested​ ​in content,​ ​protecting​ ​content,​ ​especially​ ​video​ ​assets​ ​from​ ​piracy​ ​is​ ​a​ ​paramount​ ​concern​ ​for realising​ ​the​ ​ROI​ ​on​ ​their​ ​investment.​ ​Multi​ ​DRM​ ​is​ ​a​ ​solution​ ​that​ ​helps​ ​content​ ​owners​ ​and distributors​ ​save​ ​money​ ​while​ ​helping​ ​them​ ​to​ ​reach​ ​as​ ​large​ ​an​ ​audience​ ​as​ ​possible.
Summary:​ ​​
Mware​ ​Solutions​ ​provides​ ​turnkey​ ​end-to-end​ ​OTT​ ​IPTV​ ​Middleware​ ​solution, which​ ​involves​ ​Daas​ ​or​ ​DRM​ ​as​ ​a​ ​service​ ​and​ ​streamlines​ ​integration​ ​between​ ​all​ ​the various​ ​components​ ​involved,​ ​thereby​ ​making​ ​things​ ​much​ ​easier​ ​for​ ​content​ ​owners​ ​as​ ​well as​ ​distributors.