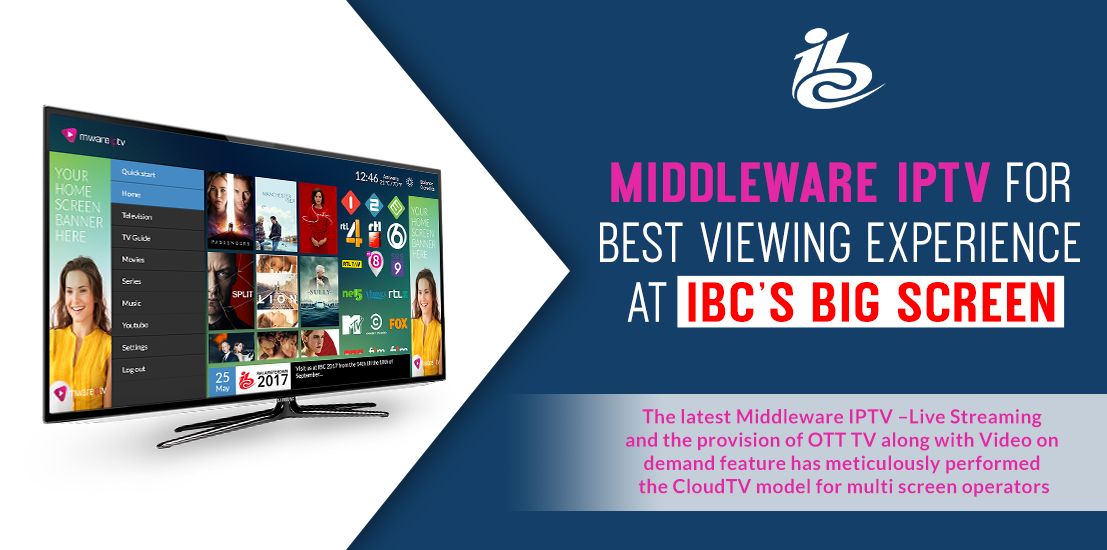 The most awaited awards in the industry of technology have become the talk of the world which is none other than IBC Awards. IBC Awards celebrate the organizations and personalities; collaboration in technology and creativity by demonstrating a breadth of innovation in the technology industry, electronic media & entertainment. IBC has announced the details of its Big Screen programme, which consists of latest service that is all set to gain the attention of everyone.
Let the Middleware IPTV imaging be explained in general; it is an astonishing kind of visual technology that transforms your cinema and TV viewing experiences with amazing contrast, color and brightness. The latest Middleware IPTV –Live Streaming and the provision of OTT TV along with Video on demand feature has meticulously performed the CloudTV model for multi screen operators.
In short, it delivers a stunning visual experience that brings the most exciting entertainment to life before your eyes.
The programme is the most amazing event for 2017 which has been shaped by a committee of global industry professionals. The insights explain the most impactful business of cinema which is a future of cinema in reality. There was a time of traditional method that revolves from virtual reality in cinema to laser and camera assessments in Middleware IPTV, with the rapid improvement and innovation in technology, visitors are getting up to speed on evolving technology which is very dramatic and effective.
With the latest Middleware IPTV –Live Streaming and the provision of OTT TV along with Video on demand feature it manages media content and target subscribers, the four-day programme 2017 examines and demonstrates the hottest topics, themes, and insights surrounding the art, science, and business of cinema – from capture through to exhibition.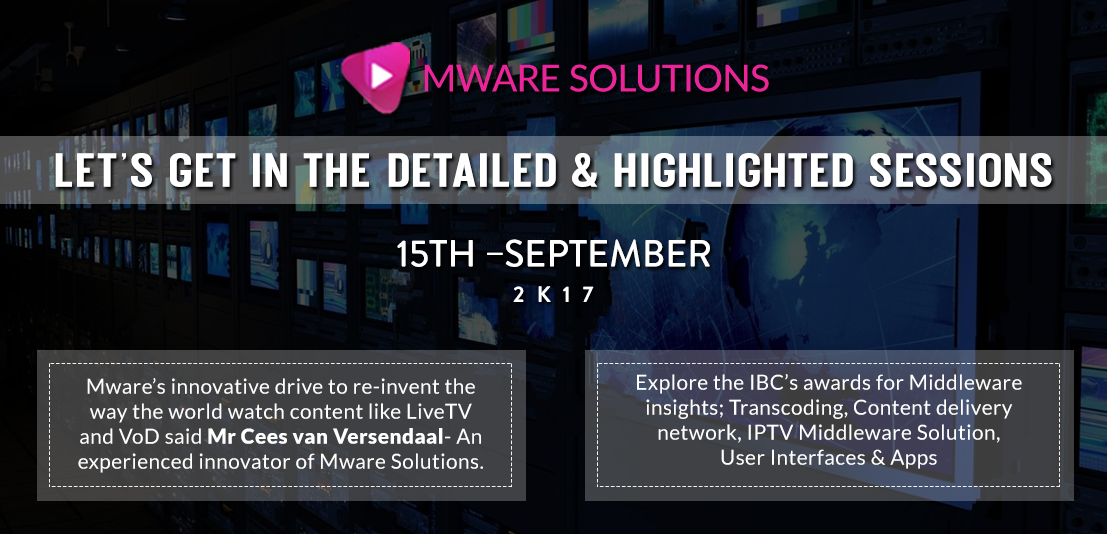 Mware Solutions:  Let's get in the detailed & highlighted sessions that include the following
Time: 15th –September
Mware's innovative drive to re-invent the way the world watch content like LiveTV and VoD said Mr Cees van Versendaal- An experienced innovator of Mware Solutions. Mr Cees van Versendaal joined the organization in 2003 as the OTT IPTV market. He invented his strategies in a way where the worlds' content is delivered to any device via a stunning visual experience. He has demonstrated his proficiencies in Market change, strategy creation, execution, commerce, innovation, business development, technology, supply chain, process optimization, and organizational development.
Let the IBC announce the details of the Middleware IPTV for optimization of on-net and cloud streaming.
"Our exemplary team of experts helps the operators in troubleshooting and resolving the various types of issues" – Middleware IPTV
Explore the IBC's awards for Middleware insights; Transcoding, Content delivery network, IPTV Middleware Solution, User Interfaces & Apps that are empowered with the new methods and technologies.