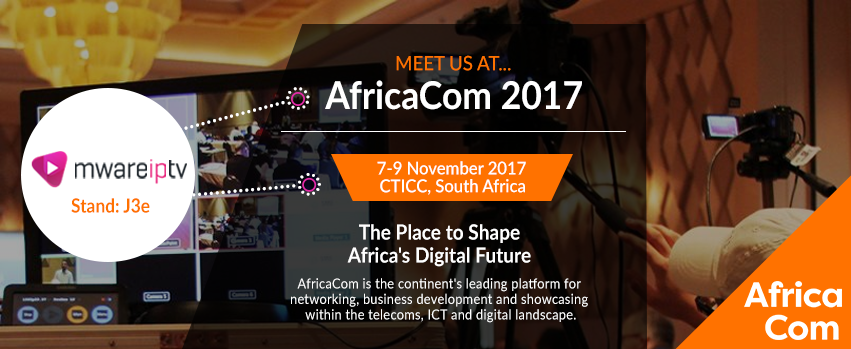 AFRICACOM 2017
Start: 07 November 2017 | End 09 November 2017
You as Telecom provider, Mobile operator, ISP or marketing company would love to meet Mware Solutions at the AfricaCom 2017
Mware Solutions offers to Operators Mware CloudTV, a true turn-key end-to-end solution to deploy an OTT IPTV Service to the Operator's subscriber base. Mware CloudTV offers a collection of User Interfaces and Apps for multiple devices to support your strategy and branding of the TV and or Video on Demand Service.
With all advantages of cloud based platform, like limited upfront investment, 100% uptime, unlimited scalable, no hardware investment and deployment in weeks.
Be a part of the single best meeting place of African & global operators, vendors and service providers that defines the most valuable solutions in business opportunities for the region. Come join us at Conference & Exhibition: 7-9 November 2017 CTICC, Cape Town South Africa, Stand J3E.
AfricaCom is one of the biggest events for new Technology Arena, a business critical agenda and World class speakers who will be gathered at Conference & Exhibition:
In this biggest African Networking and Communication opportunity event, it contains high-level conference programme and also separates co-located networking exhibition. Merely it is the best place to learn from your peers, to meet existing clients and to build new contacts.
Mware solutions are also participating in this event as it deals with the same Telecom industry for ultimate platform to network with existing high end officials in order to establish new lucrative business partnerships.
For more info visit: https://tmt.knect365.com/africacom/