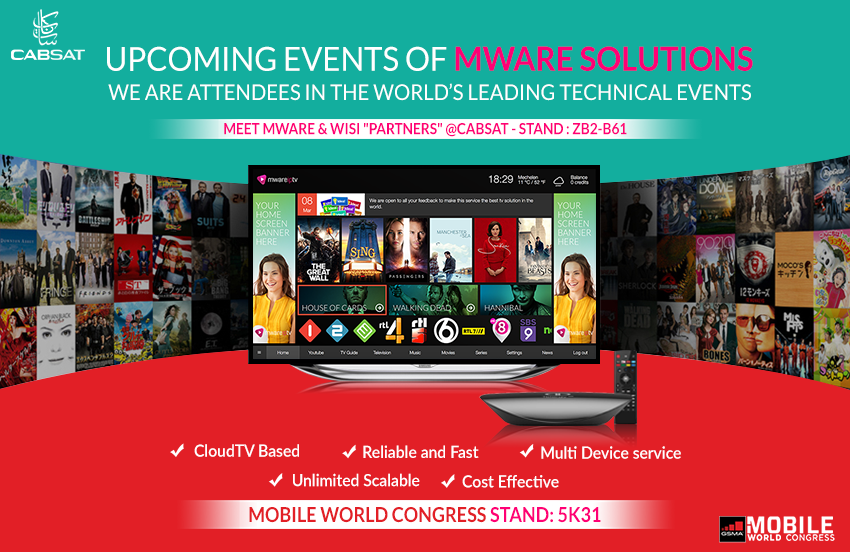 Did you know that 'Mware Solutions' is one of the prominent assets as attendees in the World's leading technical events?
Yes, you read it right!
In addition to stream entertainment, Mware Solutions is highly appreciated world-wide as OTT/IPTV (Internet Protocol television) for services such as video on demand, in-program messaging, time shifting and letting viewers/users to consume content other ways besides live broadcasts (e.g., on-demand video, digital recording, and the ability to rewind or restart a live program) and just because of its essential technical features, it is worldwide recognized and this is the reason it is on the track of showing its proficiencies in the upcoming events that are CABSAT (14 Jan 2018-18 Jan 2018) at Dubai  & Mobile World Congress (26 February2018 to 01 March2018) at Barcelona.
Meet the 'Mware Solutions Professionals' who are going to attend the events:
Cees Van Versendaal, Executive Sales Manager, Mware Solutions, Frans Bloomestein, Sales Director, Mware Solutions , These are high dignitaries who are specialized in their profiles in Mware Solutions.
It's time to talk about the Events:
Starting with the first event- CABSAT, the event comprises of region's broadcast, Satellite & Digital entertainment professionals and Mware Solutions is one of them. With more than 13,000 key buyers and decision makers, Mware Solutions will showcase how business network is increased with OTT Multiscreen platforms for IPTV, It will also reinforce the brand and convert prospects into customers in CABSAT event at Dubai World Trade Center.
Why are we best in Industry?
There are a lot of reasons that will make you understand that why we are best by the listed below reasons, for both of the described events.
Here is why Mware Solutions is best to participate in CABSAT:
Mware Solutions has one of the greatest reasons for participating in this event and that is innovation in delivering the IPTV services among multiscreen platforms such as on the TV set, on the PC or Laptop or on their smartphone or tablet.
With Over-the top (OTT) service, Mware solutions is protecting premium content and managing the digital rights with the IPTV services. It enables and increases the multi-screen and OTT viewing experience. Mware Solutions supports the innovation, secure integration and cost effective strategies that deliver the impeccable services.
Mware Solutions supports the Robust versatile multi-user interface low cost OTT/IPTV
Mware Solutions provides solutions for Multi Device service or as a

Set-top box

service. Both services can be used for both OTT as well as IPTV.
Mware Solutions provides a turn-key online video platform to cover all aspects from ingestion to delivery which is developed to help service providers,

operators

, and

enterprises

.
Another upcoming event of Mware Solutions is for Mobile World congress (MWC) and there are ample reasons for Mware Solutions to walk in the lime-light as Mobile World congress (MWC) has set the benchmark by a record-breaking year for GSMA Mobile World Congress as 108,000 attendees are participating in the industry's premier event and 'Mware Solutions' is one the them. Isn't it amazing?
Here are other reasons for another event that will tell you that why are we best for Mobile World Congress:
Mware Solutions is going to be a part of the exhibition that is hosted more than 2,300 companies for both mobile ecosystem along with adjacent industries likewise automotive, healthcare and finance. We, at Mware Solutions will be solely responsible for reflecting the MWC's theme and that is "Reflecting the elemental role of mobile in the lives of billions of people around the world"
Mware Solutions at Mobile Tech on Show at the Innovation City will represent the interests of people like mobile operators worldwide among GSMA representing 300 companies in the broader mobile ecosystem, handset and device makers, software companies, internet companies and equipment providers. Mware solutions will represent the Cloud TV as a user interface and APPs for multiple devices to stream IPTV with IPTV features.
Reasons to participate in Mobile World Congress (26 February2018 to 01 March2018) event:
There is no doubt that Mware CloudTV offers a collection of 

User Interfaces

 and Apps for multiple devices to stream media over TV and or Video on Demand Service.
Mware Solutions is a platform for the

Operators

and the

Enterprises

that offers a convenient world of

streaming

media whether you need a second remote or want more features and functionality, the mobile app will let you access the remote for IPTV
OTT/IPTV for multiple devices through a mobile app makes it easy and fun to control your media player (Set-top-box) and IPTV
Mware Solution lets you search across top

streaming

channels in a while.
It also supports the voice search and controls
It lets you listen as loud as you want with Private listening
Users can share photos and media on IPTV
IPTV platform for

operators

can  allow the hand-picked selection of movies and TV shows available to watch for free, rent or buy
Technology for streaming entertainment is rapidly increasing with time; IPTV is a unique TV with the added functionality and features of OTT to stream media with your finger tips and there is no doubt that it is one of the leading media on the market which has been the easiest way out to stream content online!